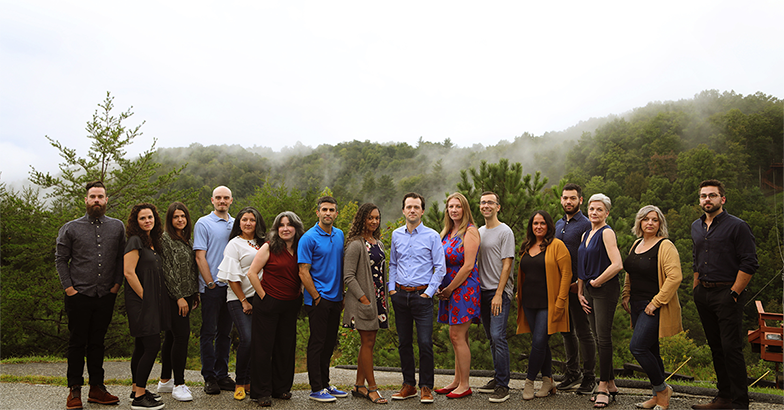 Reink Media's Mission
Our mission is to make the world a safer place for investing, while sustaining an ethical, environmentally conscious approach.
"People before profits."
We use this phrase a lot around here because it drives everything that we do — externally and internally; from major long-term business strategies to seemingly minute decisions about employee wellbeing. 
Here's another one:
"Have fun, while growing in a scalable and sustainable way."
That's our corporate mantra. And now, the back story …
A passion for investing. A personal blog started in a freshman dorm room. Skipped classes. All-nighters. Booming website traffic. Growing accolades. Resisting the easy money — and inherent conflicts of interest it brings — to do things differently. 
You know, it's your classic dorm-to-successful-dotcom-business narrative arc.
But seriously, the story of Reink Media Group (RMG) starts with Blain Reinkensmeyer's first blog post from his dorm room in 2006 under a "for traders, by traders" tagline. Brother Brandon, an honors college grad who was working in commercial real estate, came aboard some years later. After a few domain name changes, StockBrokers.com stuck — and so did the brothers' very un-corporatey modus operandi.
Helped across all of our domains since inception
As Blain rigorously tested broker sites and collected and analyzed massive amounts of data, he wondered why his ratings and rankings often differed from what was published elsewhere. Although "pay to play" wasn't a well-known term back then, Blain soon figured out that most sites were awarding accolades and highlighting products based on whichever paid out the highest referral commissions. Not cool. 
That wasn't how Blain and Brandon wanted to operate in the world. The "easy money" was riddled with conflicts of interest. They'd seen firsthand how the flipped mantra — "profit before people" — had a profound negative effect on individuals. People, like their grandparents, who lost hundreds of thousands of dollars due to conflicted retirement advice from advisors they thought they could trust with their life savings. We're talking about advisors whose way of operating is status quo in the financial services industry! 
Reink Media would build its reputation as the place for individuals seeking fair, thoughtful, informed and unbiased information about investing products and services. 
People came first. And then profits.
Cue business expansion montage: StockBrokers.com garnering respect of executives and the broader brokerage industry. The company's awards referenced on earnings calls, national TV commercials, and around the web. A model airplane flying around the globe as RMG expands into international trading platform reviews with ForexBrokers.com. The launch of investor.com, RMG's consumer advocacy project to help everyday Americans find trustworthy financial advisors. The expansion into personal finance product reviews (credit cards and high-yield savings accounts).
"Pursuing purpose-filled missions is part of our DNA."
Today, Reink Media websites are run by a small but mighty team (check them out!) serving millions of visitors each year. Despite many opportunities to raise growth capital, pocket a profit and move on, we proudly remain privately owned and 100% bootstrapped. Ultimately, as long as we are having fun and growing in a scalable, sustainable way, we know we're sailing in the right direction.
We believe we have a responsibility to use our collective expertise as a privately held, 100% bootstrapped organization to give back. Doing business for good has been — and will continue to be — a part of our DNA. Here are some of the ways we have found to make a social and environmental impact.